Freecell Collection
Freecell Collection is a Microsoft Windows based Solitaire Card Games Collection with 62 games including 14 standard and 48 original games. All main freecell solitaire variations are included like Baker's Game, Eight Off, Two Cells, Seven by Four, Tuxedo, Sea Towers, Bastion, Forecell, Penguin, Milligan Cells, Four Colors, Stalactites and Spidercells. Freecell Solitaire Collection has many unique features compared to other solitaire games collections. With Moves Manager you can move to any position in the currently playing Game with a single click. With Pending List you can add any game to the pending list. Once added it will remain in Pending List till you finish it or manually delete it from pending list.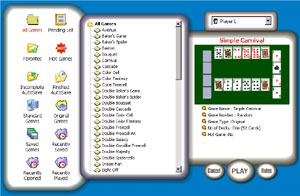 You can add your favorite Freecell solitaire Games to Favorites List with Game number and game name. Hot Games List contains game names of your favorite Freecell Games. AutoSave also another unique feature. If it is enabled Freecell Collection will save all incomplete and Finished Games to Autosave list and you can play it later. Detailed statistics, undo/redo, undoall/redoall, replay, automatic game loading, recent list are some major features of Freecell Collection. Freecell Collection 30 days trial Free Download. 30 days Free trial version is available to download. You can download and use this evaluation version Free for 30 days. Download Freecell Collection Now Online Freecell Collection Purchase Registration fee for Freecell Collection is $14.95. All future releases are free for all registered users. Apart from that we offer you a 30 days unconditional money back guarantee for your purchase. In any case if you are not happy with the purchase you will get the full money back. So purchasing Freecell Collection is risk free. Purchase Freecell Collection Now
Lifetime Free Upgrades For all our products we offer Free Lifetime Upgrades including Freecell Collection. So once you purchase Freecell Collection then you will get all future upgrades and releases without paying any extra money. So purchasing our product is for lifetime.