My Klondike
My Klondike is world's first Klondike Game Studio. With my Klondike you can create and play your own Klondike Games. With this highly customizable Klondike Game Studio you can customize entire Klondike game rules by selecting Number of Tableau piles, Tableau arranging order, Foundation arranging order, foundation base card, number of cards in foundation, ace-king wrapping in tableau and multi card movement in tableau. My Klondike has many new features which you will not find in any other Klondike game collection. My Klondike has 999 trillion shuffles so every time you play you will get a different game. So in My Klondike you don't have to worry about playing a same game number again. Undo/Redo, Undo All/Redo All and Replay Unlimited Undo and Redo is another feature of My Klondike so that you can Undo the current playing game to the beginning and Redo till the end. With Undo All and Redo All options you can undo to the beginning and redo till the end with a single click. In My Klondike while playing the game you can Replay the game backward and forward. In My Klondike It is also possible to Replay the game from the beginning.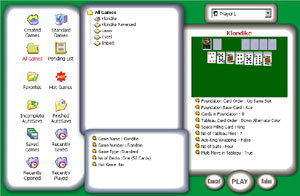 My Klondike Game-wise, Date-wise and Player-wise Statistics Detailed Statistics is another important feature of My Klondike. With the Game Statistics Window you will get countless information like Games Played, Games Won, Games Lost, Total Score, Total Moves, Total Time, Moves per Game, Score per Game, Games per hour and Winning Percentage with chart. Game-wise tab in My Klondike provides Game Wise Statistics for all created and standard Klondike games with chart and Date-wise tab gives you detailed Statistics which can be arranged by date, month and year. Player-wise tab is to display Player Wise Statistics for each players. Session Statistics, High Score, Log Statistics and Export Score Session Statistics Window in My Klondike provides information about Current Session and Current Game. My Klondike High Score Window provides information about Total Top Scores, Game wise Top Scores, Player wise Top Scores and Finished Games Top Scores. My Klondike Finished Games can be arranged by Scores, Time and Moves. Log Statistics Window in My Klondike gives you full log statistics which can be filtered by Player, Game or Date. In additions to this My Klondike gives you options to Export and Delete entire Statistics. Export will save entire My Klondike statistics as a text file to any given folder in your computer. Add/Organize/Play Favorites, Add/Edit Players and Game History My Klondike also has many other features. In My Klondike You can add current game to Favorites list and later you can organize the favorites list or play from it. In My Klondike you can create new Players, Edit or delete existing players with the Players Window. My Klondike Game History window gives you a detailed game history (of the current game) like source cell, destination cell and number of cards moved. My Klondike Recent Game List and Random Range Selection Another new feature in My Klondike is Recent Games List. Last 5 played games are shown up here. It can be cleared from the Customize dialog. In My Klondike you can also set the random range from 9 to 999 trillion. If it is 9 you will get random game between 1 and 9 and if it is 999 trillion you will get a random game between 1 and 999 trillion. Customize My Klondike - Background Picture and Color My Klondike also gives you option to select your background. In My Klondike you can either choose a predefined background color, or background picture or you can create your own background color with the color dialog box by specifying Red Green Blue values. If you select your own background color for your My Klondike window then you have option to fade the Background Color. Customize My Klondike - Card Deck, Sound and Card Speed In My Klondike you can also change the Card Deck Picture. You can select any card deck picture from the listed 15 My Klondike Card Deck Pictures. In My Klondike you can Select or Deselect Sound for specific events like Card Up, Card Down, Autoplay, Game Won. My Klondike Card moving speed also can be controlled for each specific moves like Card Move, Undo/Redo Move, Undo All/ Redo All Move and Replay. My Klondike Free Download - 30 Days Evaluation
You can download and play My Klondike for 30 days without paying any fee. A 30 days evaluation version of My Klondike is available to download. You can use this evaluation version of My Klondike free for 30 days and if you like to continue using My Klondike after 30 days then you must purchase My Klondike. Purchase My Klondike with Money Back Guarantee Ordering My Klondike is risk free. We offer a 30 days money back guarantee for My Klondike. If for some reason you are not satisfied, you can return My Klondike for a full refund. If you are serious about Klondike Solitaire games, My Klondike is for you. Download a free evaluation version of My Klondike today...