Register Freecell Collection
This tutorial will help you to register Freecell Collection. Same procedure is applicable for Spider Collection, Klondike Collectio, My Freecell, My Spider, My Klondike, My Solitaire and Solgames 2004. Before starting registration process you have to download and install Freecell Collection. If you need help about downloading and installing Freecell Collection please visit
Freecell Collection Installation
After successful installation of Freecell Collection you will see a new programs group named Freecell Collection 6.0 under Programs Folder in Start Menu. If your evaluation version is expired the please
click here
Start Freecell Collection from Start Menu -> Programs -> Freecell Collection 6.0 -> Freecell Collection 6.0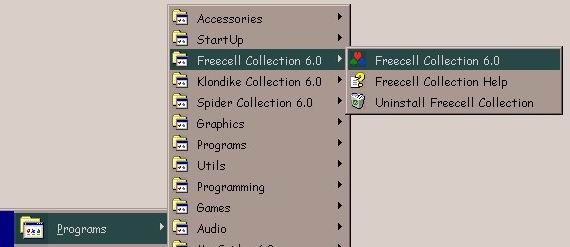 First you will get a splash dialog like this...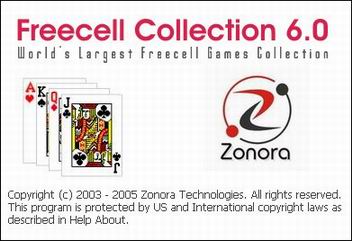 Now you will get the evaluation dialog box saying that it is a 30 days evaluation version of Freecell Collection. When you download Freecell Collection it is a 30 days evaluation version. After that you have to enter your registration code (sent via email after purchase) to make it a registered version. Click on the play button.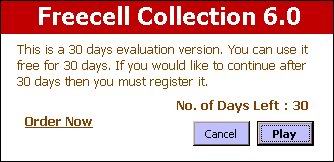 Now Freecell Collection Select Game Dialog will come up. Since we are going for the registration process just click on "Cancel".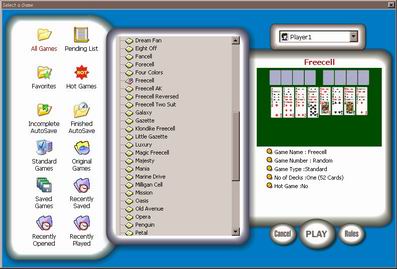 Now select dialog will disappear and the main Freecell Collection Window will be visible. On top of the main window you will see menu items and toolbar. Click on the Help in Menu bar and you will see a popup menu with 5 items. Rules, Contents, Buy Now, Activate and About. Click on Activate to (you can also hold down Control Key and press R button).

It will show the Activation Dialog. This dialog box is with 4 boxes to enter your 17 digit registration code. Type your registration code correctly to these boxes and click "Register"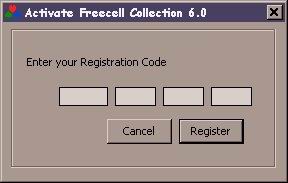 If you have entered the registration code correctly then you will get a message like this...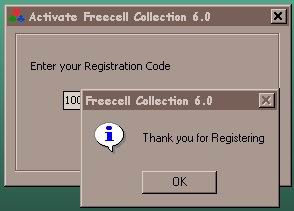 Anytime you can check the registration status from Help-> About

If your Freecell Collection is a registered one then About Dialog will show "Registered Version" else it will show as evaluation version.