Date-wise solitaire games statistics
Date-wise statistics window arranges all the played games date-wise. You can filter it with days, months or years. To get this window click on the game statistics link under the statistics menu or if the statistics toolbar is enabled then click on the game statistics toolbar icon. This will brings up the game statistics window. Now click on the date-wise tab to get the date-wise statistics window. Range can be selected in 6 ways. Last 5 days, 10 days, 30 days, 5 months, 10 months and 5 years.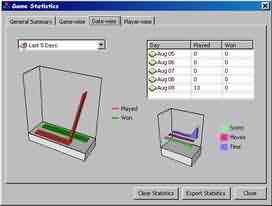 When you open the window the first range will be selected (last 5 days) and the window displays statistics for last 5 days. To change the range click on the combo box available at the left part of the window. When you select a new range the game statistics manager displays a chart with two parameters - played and won. This is the total number of games played and won during the selected period.Next chart shows total score, moves and time. This again for the selected time range. Also note that these statistics are for all active players exists in the game's internal database. If you want to see statistics for a particular player then go to player-wise listing.Third section lists the details about games played and won during the period. If the range option is in days then this listing also will be in days. For a month-wise listing this list gives details of games played during those months and for year-wise listing it will be for years. With this window you can see statistics for up to last 5 years. This a very useful tool especially when you want to watch your game play progress.