Solsuite 2019
Solsuite 2019 Solitaire Games
Solsuite 2019 is one of the most popular and largest solitaire card games collection for Windows based computers with 724 Games and 2.4 million dowloads worldwide. All popular solitiare games are included like Spider solitaire, Klondike, FreeCell, Pyramid, Yukon, Monte Carlo, Canfield, Gaps, La Belle Lucie, Flower Garden, Rouge et Noir, Forty Thieves, Four Seasons, Napoleon and Diplomat. Solsuite 2019 also contains many new original games like King of Scotland, Foxtrot, Mayflower invented by its creator Tree Card Games.
Solsuite 2019 Features
Some of the unique features in Solsuite 2019 are 724 games, 60 awesome card sets, 300 amazing card backs, 100 background images, large card sets option, themes, advanced features, statistics and options etc.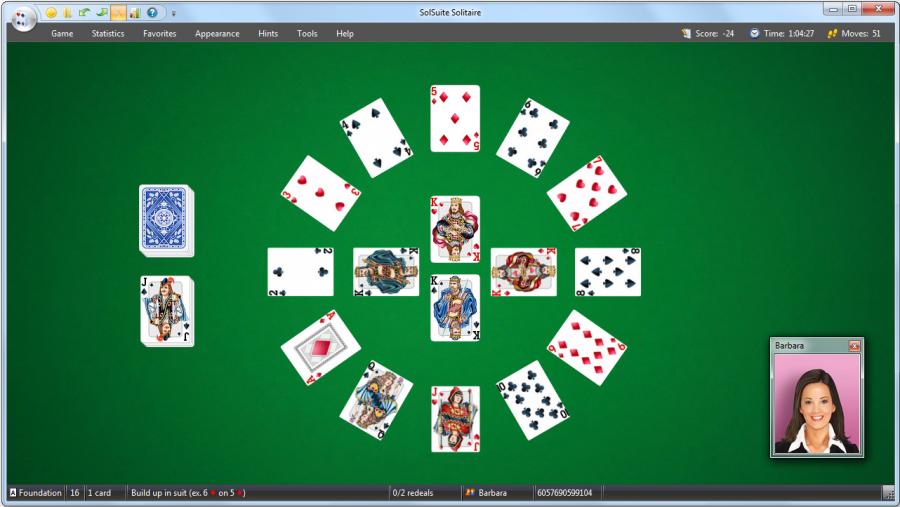 Games List in Solsuite 2019
Solsuite 2019 contains 35 spider variations, 21 freecell games, 36 klondike solitaire games, 9 bakers dozen games, 11 beleaguered castle type games, 15 canfield games, 14 kids solitaire games for children and 355 original games.
Solsuite 2019 Advanced Features & Settings
Also Solsuite Card Games package has many other features like fully customizable card sets, card backs, background, sounds, themes, toolbars and unique scoring system and statistics, option to pay solitaire games with family and friends and advanced features like suggest a move, game demo, series manager, favorite manager, define card speed and sound effects etc.
Supported OS
: Solsuite 2019 supported operating systems are Windows 7,8/8.1 and 10.
Buy Solsuite 2019 and its Price
: Solsuite 2019 actual price is $19.95 but now its available in a promotional offer of $9.99.
Download Solsuite 2019
To know more about Solsuite 2019 like awards, screenshots, latest updates, solsuite champions, full list of solitiare games included or to purchase Solsuite 2019 suite please visit Solsuite website.